GEAR UP WITH THE AMERICAN STANDARD
AT THE NRA SHOW IN ATLANTA
WOOD VILLAGE, Oregon, APRIL 19, 2017 – (ArmsVault.com) – GrovTec asks NRA Show attendees to stop by booth #1761 in Atlanta to check out their rugged, practical, and American-made hunting and shooting gear.
GrovTec offers gear for every field application. Multi-Fit Holsters feature torsion grip retention that keeps backup pistols firmly in place when tracking through the woods. Well-thought-out sling designs offer a thumb loop to alleviate hand fatigue. When combined with GrovTec's quiet, strong Push-Button Swivels, rifles can be carried securely on any trek. Throw in a buttstock shell holder, and you are ready for action. All field gear is available in a variety of colors and patterns including TrueTimber® pink camo for female hunters.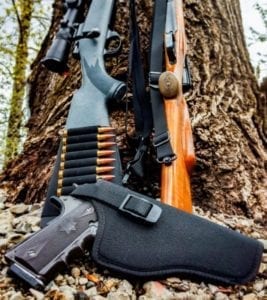 For the MSR (Modern Sporting Rifle) enthusiast, GrovTec's new Picatinny Rails offer a diverse set of choices for accessory mounting. Easy-to-install, these rails give you the opportunity to mount your favorite laser, sights, scopes and other accessories on stock AR platforms or KEYMOD™ and M-LOK™ mounting systems. Up to 5 rail lengths are available. Some models even include integral push button swivel bases.
All GrovTec products are perfectly designed with high standards of quality, material, finish, function, durability and cost. Ask for them at your favorite firearms dealer or visit grovtec.com for more information.
About GrovTec US, Inc.
GrovTec US, Inc. is manufacturer of premium firearm sling swivels, swivel sets, tactical attachments, slings, holsters, ammo accessories and the EZ Clean multi-stage bore cleaner.
Go Hunt. We'll Carry the Gun.