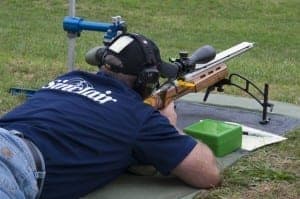 Sinclair International, the world's premier supplier of high-quality reloading and competitive shooting supplies, is pleased to announce its return as the title sponsor for the Sinclair International East Coast Fullbore Nationals. The second annual match will take place at United States National Guard's Camp Butner in Butner, North Carolina, April 3 – April 6, 2014.
The four-day match  is open to Prone Fullbore, F-Open and F-TR competitors, and will feature firing distances of 300, 500, 600, 900 and 1,000 yards. All international fullbore rules will apply.
Event organizers ask that those intending to participate pre-register before Friday, March 28, 2014. Entries are limited to 160 competitors.
"We are very proud to be able to sponsor the second annual East Coast Fullbore Nationals," said Geoff Esterline, Sinclair International Category Manager. "Last year's match was such a success, we hope to see an even better event this year."
Last year, Team Sinclair won the F-TR team title, posting a score of 1538-40X. Team Sinclair shooter Derek Rodgers, took the individual title with a four-day aggregate score of 1741.62.  Team Sinclair looks to defend its undefeated streak, dating back to 2004.
For more information, including a detailed list of the rules and entry information, visit the Sinclair International East Coast Fullbore National's official website.
Sinclair International is the world's premier supplier of high-quality reloading tools, components, ammunition and accessories, plus unique competitive shooting and hunting supplies. A member of the Brownells Group since 2007, Sinclair International stocks more than 15,000 items and supplies handloaders, shooters and hunters worldwide. To place an order, or for additional information, call 800-717-8211 or visit http://www.sinclairintl.com.