NRA Membership Discount for new members, renewals, and gift memberships!
No doubt about it… times are tough! But imagine how tough things would be if we no longer had the right to keep and bear arms. Imagine what would happen to our society if we no longer had the means to defend ourselves from criminals and tyranny. Despite common sense, there are many out there who are aggressively trying to take away these rights. We can't let that happen!
The NRA has a long history of fighting to defend the Second Amendment. But they can't do it without us!
As a recruiter, we are able to help you join the NRA at a discounted rate. Please consider taking advantage of this great NRA membership discount! This NRA discount is good for new members, gift membership, and renewals.
↓↓↓ NRA Membership Discount ↓↓↓
Discount: $10 off yearly NRA Membership. (Save even more on multi-year memberships!)
Cost of 1 Year NRA Membership: $35
Get Discount: Sign Up Now on Discount Page
Click Below to be taken to the NRA Membership Page
Prices shown will reflect the NRA Membership Discount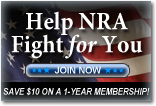 Join the NRA today, AT THE DISCOUNTED RATE, and receive:
24/7 defense of your Second Amendment freedoms
Official NRA members – only shooter's cap *
Your choice of monthly NRA magazines (Premium Digital Editions now available)
Membership card and decal
Free Admission to the Exhibit Hall at NRA's Annual Meetings & Exhibits **
Invitations to "Friends of NRA" dinners and other special events and more…
* – shooter's cap available for regular annual membership of 1,2,3 or 5 years only
** – For active members only
Free gifts and benefits may vary. Visit NRA Membership page for updates.